All Saints is a one form entry mainstream school and we have children from Nursery age to year 6 and 235 children. We are committed to providing a broad curriculum for all children. Children are taught an innovative, engaging and challenging curriculum in semi open plan spaces. All children, including those with SEND, are supported to make the best possible progress.
We identify any additional needs a child may have as early as possible. We do this through concerns raised by parents/carers, teachers or teaching assistants or any external agencies and previous schools that may have been involved with the child. All teachers and teaching assistants within the school work hard to ensure that all children, whatever their ability, achieve well. Any concerns that a teacher has after putting strategies in place to support children will be referred to the Special Educational Needs Coordinator (SENCo) and Inclusion Team through an Inclusion Team referral form. They will then review any new referrals at our weekly Inclusion Meeting. Parents and carers will be kept informed throughout the process. If it is felt that the next step would be to place a child on the SEN register, and an IEP/IBP will be written for the child with measurable targets set. These will be reviewed termly, with new actions being decided at each point. It is important to have the input of parents and carers, as well as teachers at each review point. If further support is required, we may refer to our on-site speech therapist or an educational psychologist. Parental permission will be obtained prior to referral. We support all children through "quality first" teaching as well as the graduated approach.
Who are the best people to talk to about your child's difficulties?
We know that parents or Carers may be concerned about their child's learning or progress, in this instance we would first encourage them to speak to the Class teacher. Concerns are then passed to our Inclusion Team.
Our Inclusion Team are:
SENDCo: Mrs Jessica Reed
Inclusion Manager: Mrs Tracey Reed-Morrison.
Interim Deputy Head Teacher- Carolyn Doherty
Pastoral Lead: Miss Gemma Latham.
The Inclusion Team can be contacted on 0161 223 9325 or by email:
j.reed@allsaints-pri.manchester.sch.uk - SENDco

t.morrison@allsaints-pri.manchester.sch.uk - Inclusion
Please click on the following links below to read our SEND information report, SEND Policy and Accessibility Plan.
-
Special Educational Needs Policy
-
-
Enter text...
Dear Parents/Carers,
We would like to invite you to our Parent/carer SEND Afternoon Tea. The SEND team- Mrs Reed (SENDco), Miss Mather and Mrs Travis will host the meeting and this will take place on Wednesday 15th June 2022 at 1.30pm in the Sunshine Room. Please meet in the School Office promptly at 1.30. During this meeting, we will be discussing the following.
Welcome new parents

Parent/carer forum and support through the local offer team

Behaviour strategies

Sunshine Room provision

The Local Offer

How we can support each other as parents/carers-links to the Parent/carer forum.

Any other business
It would be wonderful if you could attend and join our meeting. Tea and Coffee will be awaiting your arrival and even delicious cakes and sandwiches!
We look forward to seeing you there.
Your Sincerely,
Mrs Reed and the SEND Team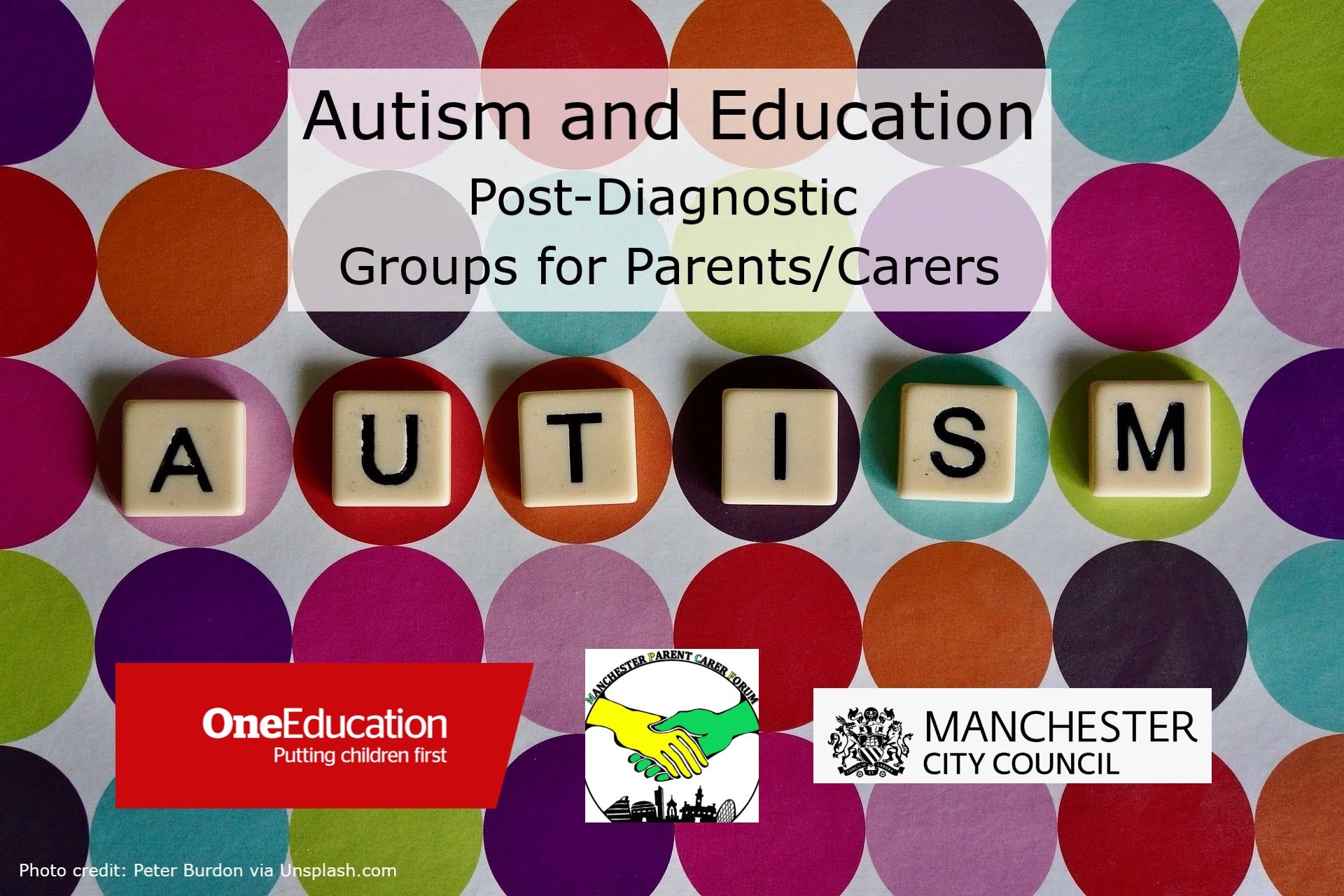 Educational Psychologists from One Education in Manchester are running free half-day training sessions for parents/carers whose children have received an autism diagnosis from one of the following centres over the last two years.
The Powerhouse – North and Central Manchester Social Communication Pathway (SCP)

The Bridge – North Manchester SCP / Social Communication Assessment and Intervention Team (SCAIT)

The Winnicott Centre – Central Manchester SCP / SCAIT

Carol Kendrick Centre – South Manchester SCP / SCAIT
The sessions are for those who have not already received post-diagnostic training through the above centres.
These sessions will cover:
What is Autism?

The Special Educational Needs and Disability (SEND) Code of Practice – Working with your child's school to ensure their needs are met

Opportunities for Q & A, to stay in touch with other parents; an Introduction to the Manchester Parent Carer Forum

Signposts to further support