Post-Olympic Legacy
During Spring 2, All Saints had a fantastic Week of Work. We had visitors to the school and children went and visited places of work in our local community.
On Friday 4th March, All Saints children came to school as their future selves in a World of Work Day.
Lots of the children have a desire to be in a career that celebrates physical activity. Each year group had photograhs taken to highlight the range of careers.
Some children want to be professional footballers, Olympic gymnasts, F1 Drivers, ballerinas and horse-riding instructors.
Keep your eyes peeled in a few years time. They might be winners of the Ballon D'or, F1 Champion or Performing on the worlds best stages.
Perhaps you've been taing part in physical activities, joining sporting clubs, going to watch sporting tounaments/festivals with the family or maybe just been catching up with the Premier League highlights?
If you see Mr. Hunter over the next few weeks then let him know all that you've been doing.
With the upcoming European Championships held in France this Summer, can you blog to let Mr. Hunter know your opinions as to who you think will win?
Which country id the favourite to win?
Which country could be the 'dark horses'?
Are there any players you're looking forward to watching?
During the summer holidays all Manchester Leisure swimming facilities offer free swiiming for Manchester residents UNDER 16! (This means you!)
All you have to do is click on the picture below that will take you directly to the webpage. Complete the downloadable paperwork and as long as you meet the terms and conditions then it's FREE to swim.
Not only is swimming a great physical activity, it is also an important essential life skill.
Are you going to be the next Rebecca Adlington or David Davies?
Under 20 Rugby World Cup
In June 2016, the Under 20 Rugby World Cup is being held in Greater Manchester.
You can see who England will be playing and perhaps even buy some tickets to the matches.
Click on the image below to be taken to the website for futher details.
Sporting Events
American football
Superbowl 2016-February 2016
Click on the image above to find out about one of the most porpular sports in the USA. It takes you directly to the NFL Superbowl website. Over recent years, it has grown in popularity in England and now has regular matches being played at Wembley Stadium.
Mr. Hunter doesnt know too much about this sport. Can you find out the names of any teams or players that play this sport and impress him with your knowledge?
Sporting Events
Rugby World Cup
The Rugby World Cup is happening throughout September-October 2015. There is even a match at the Etihad Stadium.
Click on the image below to keep up to date with all the latest news, fixtures and progression over the coming weeks.
Don't forget to let Mr. Hunter know if you're going to be watching any of these matches. Who do you think will reign supreme?
Salford Triathlon
Taking place on Sunday 26th July 2015, Salford Triathlon offers triathletes of all abilities racing on fast flat courses around the breathtaking MediaCity UK complex at Salford Quays.
Do you know what the 3 different sporting events that make up the triathlon?
Go and watch this fantastic event happening over the summer holidays. Let Mr. Hunter know who the winner of the events were. Maybe this could be you in a few years.
Sky Ride Manchester 2015- Sunday 2nd August
Join thousands of other cyclists as we take to the streets between 10.00am and 4.00pm for a fantastic traffic-free bike ride through the city.
With loads of free things to do and try out on the day, including the 'Tricks & Tunes' area and our friendly Bike Cafe, we're rolling out a real festival atmosphere. Visit the Rebel Kitchen Mylk Stop to pick up a free drink (dairy-free coconut mylks made with love), play games and win prizes.
Register for Sky Ride Manchester and you'll be entitled to a free expert bike check (worth £14.99) at Halfords. You'll also be able to collect a free Sky Ride reflective bib on the day.
Mr. Hunter has also been informed that you can hire a bike for £7.50 for 2 hours, as long as you have photo I.D but this is on a first come, first serve basis.
Let Mr. Hunter know if you're going, you might see him there- He'll be the one at the back!
Tour de France 2015
The Tour de France is taking place from the 4th-26th July 2015.
This year, British based company-Team Sky will be competing to win. Chris Froom will be leading the charge and supported by his team mates.
Do you know what the 5 colour jerseys are and who they are worn by?
Will you be the next Chris Froom, Mark Cavendish (Mr. Hunter's favourite cyclist) or Sir Chris Hoy?
Click on the image below to keep up to date with current developments and cheer on the cyclists.
Physical Education at All Saints
At All Saints Primary School we encourage children to particpate in as many physical activities as they can.
We do this by not only teaching and delivering high quality Physical Education in school but have for numerous years also helped children develop their skills and techniques at clubs during lunchtimes, after school and in workshop sessions.
Decisions, decisions
In Summer 2013, as a school we started looking at ways to spend the allocated money.
We spoke to the school staff and the children and asked for their opinions. This was done in a variety of ways including meetings, observations, surveys, and network meetings.
The main finding were as follows
Staff
More Opportunities for Staff Development (skills and subject knowledge in games and dance)

More Resources-specifically linked to games and dance
Children
School Council wanted more multi-skill activities for lower school

A dance area to perform and rehearse outside

Play sports against other teams/schools
Staff Training and Development
On 7th May 2014, Neil Claxton from ESP came in to show the teachers and teaching assistants how to best use the new playground markings to improve childrens participation and enjoyment in outdoor games sessions.
This involved a physically active outdoor session (in the rain) where we got to look at games/activities with and without equipment on the markings.
We were encouraged to think of our own games using the markings as Neil wants the children to take ownership and they normally have some creative and imaginative ways to play games.
All the games/activities are aimed at developing childrens A,B,C (Agility, Balance and Co-ordination) and we are now looking forward to taking what we have been trained at into our own sessions.
This training has been paid for by the funding received from the Post-Olympic legacy.
Lunchtime Organiser Fundamentals
As part of our plan to encourage children to use the new additions to the school playground markings, lunchtime organisers took part in a fundamental session delivered by Mr. Hunter.
This was done through talking and discussing about how we could instigate and develop games around the markings with and without equipment. It also showed how equipemnt could be adapted and the rules changed to make the activity more challenging/easier if needed.
It was lots of fun and inspiring to the Lunchtime Organisers who look forward to implementing these games and others during their lunchtime sessions with both lower and upper school children.
Games Day 2014
On Friday 11th July, all children at All Saints particpated in Games Day.
This was held over 3 sessions.
The Foundation Stage children went first with lots of energy and enthusiasm shown by the children.
Lower School went next, with some superb team work and individual skills being shown in a range of sporting activities.
Finally, Upper School competed in a range of activities testing their sporting prowess and attitude.
It was a fantastic day with a big turn out from parents, carers, family and friends to celebrate, support and cheer on the children at our All Saints Games Day.
If there are any suggestions that you would like to be considered for next year then please see Mr. Hunter.
2014 Games Day Winners-Lower School
For Games Day this year, the groups were seperated into countries that had qualified for the World Cup 2014.
1st Place with 31 points were Nigeria ()
2nd Place with 27 points were Argentina (), Brazil () and Spain
3rd Place with 23 Points were Costa Rica (), Uruguay ()
The International Olympic Commitee (IOC)
If you want to know anything about the Olympics, then visit the official webpage of the IOC by clicking on the flag of the Olympic rings below.
All Saints Sporting Stars!
At All Saints we have lots of children who particpate in sports and physical activities outside of school. These may be for clubs and teams or for leisure.
Not only is this an extra way of keeping fit and healthy but also improve social skills, such as communication and teamwork.
Children at All Saints attend a diverse range of sports/activities and below are just a few.
Have you told Mr. Hunter what physical activity you attend outside of school?
How long have you been attending?
When did you start?
What have you gained from attending this physical activity?
would you recommed this activity to a friend and why?
Look in the photo gallery below for our All Saints Sporting Stars and you may see a future Olympian in early training!
All Saints Sporting Stars- Delamere Rangers
2013-14 was a very successful year for Delamere Rangers.
We have a close link with this local community football club based in Gorton with several of the players attending All Saints Primary School.
Mr. Hunter is also a football coach/manager within the club.
Some of our players have had trials this season for Manchester United, Manchester City, Burnley and Rochdale.
Look at the photographs below to see the players in their Delamere kits and the trophies that they have won at the presentation awards.
If you are interested in bringing your child to Delamere Rangers then please feel free to conatct the club at delamererangersjfc@gmail.com where more information can be given.
Kickboxing
We have a number of children that have participated in kickboxing for a few years. As a result of their hard work and determination then they have achieved incredible sucess.
The children that have gone to this activity say it has also encouraged them with discipline and respect, values that we also encourage at All Saints.
Ask some of our kickboxers for more details if you're interested in becoming a member.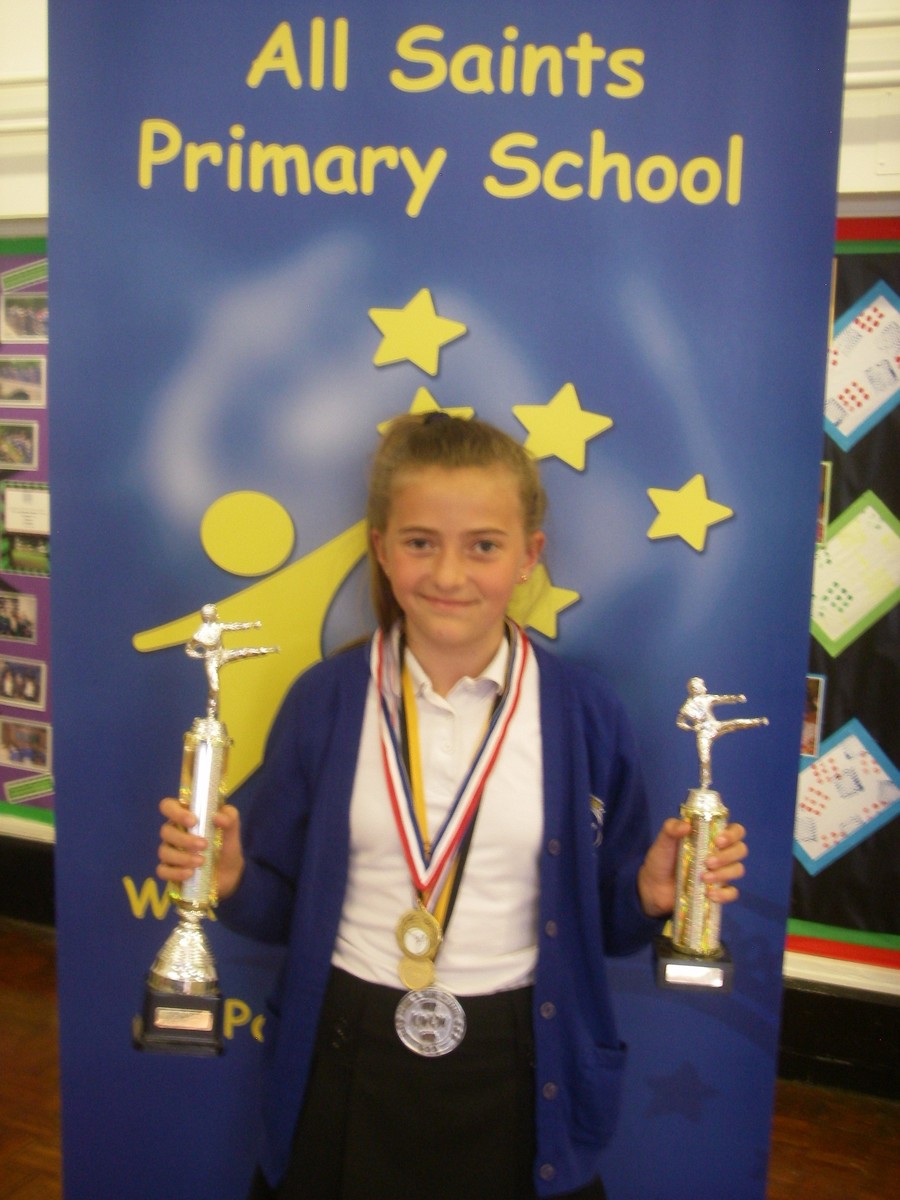 We have also this year had Kathleen Docherty working with chldren from year 1-6 to produce Irish dances. This has been a massive success and in July 2014, some of the Year 4, 5 and 6 children put on a performance for the rest of the school in an assembly.
The children did 3 performances, showing a range of taught, acquired and developed skills and we know they are going to get even better next year!
If you would like to attend this club, then sign up and you could become the next Michael Flatley in Riverdance!
As a school we have worked with Passport 2 Sport for 5 years.
We have introduced the children to a broad range of physical activities over the years.
These sessions are delivered by expert coaches/instructors and teach the children the key skills needed to participate and develop these over the half term.
These sessions are free for the children to attend and all equipement is provided for them.
The sessions are always enjoyed by the children attending and we look forward to continuing this successful partnership.
We have in the last 12 months done Lacrosse, Basketball, BMX riding and multi-skills.
On Thursday 24th April, children from Year 4/5 represented All Saints at the regional football tournament against other local primary schools at East Manchester Academy.
The children played several games (won 2, drew 1, lost 1) and went through to the final.
In a tough competitive final, All Saints won 2-0 and will now represent Manchester at the City Wide Finals in July.
We wish them the best of luck!
Sports/Activities to try in my local area
There are lots of incredible physical activities right on our doorstep or very local to us.
Manchester has some of the best facilities in the country and lots of sports or physical activities can be participated in.
Below are some incredible places you might ask a parent/carer to take you during the school holidays or after school.
You might have a talent you never knew until you try one of these!
Manchester's Climbing Centre
This is the building where Manchester Climbing Centre is located within. You might not know just from looking but once you get inside it's amazing!
Click on the photograph below to be taken to the official webpage and explore what it has to offer.
National Cycling Centre
Manchester is the base for the National Cycling Centre. The building was built as part of the Commonwealth games in 2002. Since then, it's been used to develop the stars of the present and future and has become a world renound place of cycling and BMX events.
If you would like to give any of these sports a go, then click on the photograph below to view the National Cycling Centre website and perhaps arrange a starter session.
Gorton Boxing Club- Cedar Mount
Since 2009, Cedar Mount has hosted the Gorton Boxing Club. This has become hugely popular and has over 300 members. Kevin Williams has seen some brilliant up and coming boxers and is hopeful to see some future world class boxers like Nicola Adams.